Updated September 2019
With just about everything included, from drinks to excursions and gratuities to private transfers, luxury cruises often offer the best value for money. Luxury cruise lines pride themselves on providing the ultimate cruise holiday experience with your comfort being the highest priority.  Keep reading for 10 reasons to upgrade to a luxury cruise!
1. Enjoy pre and post cruise stays
With a luxury cruise line, your holiday begins the moment you step outside your door. Enjoy private transfers from your home to the airport or port, taking the stress right out of making it on time to your ship and allowing you to feel taken care of.
In addition, you may also find that hotel stays are part of the itinerary when booking a luxury cruise, creating the perfect opportunity for exploring your departure or final destination. Cruise lines such as Regent Seven Seas feature Cruise & Stay packages offering exploration in Angkor Wat and Beijing and The Great Wall, to name a few, creating truly immersive holiday experiences.
2. Luxury staterooms and suites for all
Perhaps one of the highlights of a luxury cruise is the top-class accommodation. From sweeping verandas to lavish suites, everything in your stateroom is designed to enhance your holiday experience. Inside cabins are a rarity with balconies being the norm, meaning everyone onboard can enjoy the spectacular sea views, and with no details spared you can expect fine art, beautiful fabrics and high-end complimentary toiletries.
3. Drinks included, including fine wines
With the majority of luxury cruise lines, drinks are part of the overall cruise cost and this includes alcoholic beverages. With no extra charge you can enjoy a selection of wines, beers, cocktails, spirits, or soft drinks in the bars, restaurants, and lounges. Some cruise lines even provide fully stocked minibars with complimentary champagne waiting for you on arrival.
4. Devoted service at all times
With a high staff to guest ratio onboard luxury cruises, the level of service is guaranteed to be outstanding. No matter whether you're ordering your favourite drink at the bar or ordering a service to your stateroom, you'll find the staff are more than happy to go above and beyond for your requests.
5. Gratuities are included
Although you will receive the highest levels of service onboard a luxury cruise ship, on the majority of luxury cruise lines you're not expected to tip, as gratuities have already been built into the cruise fare for you. Of course you can still tip if a member of the crew does something beyond your expectations, but it is nice to not have to feel pressured for these additional costs.
6. Fine dining is a given
Through fantastic collaborations with world-class chefs, you'll experience Michelin star quality dining at sea, as well as exclusive classes and demonstrations. With chefs such as Nobu Matsuhisa creating delectable menus on Crystal Cruises that you won't find anywhere else, luxury cruising is a foodie's dream. Not only are you able to enjoy the finest dining onboard, but there is also no cover charge in many cases as it's all included within the price of your holiday.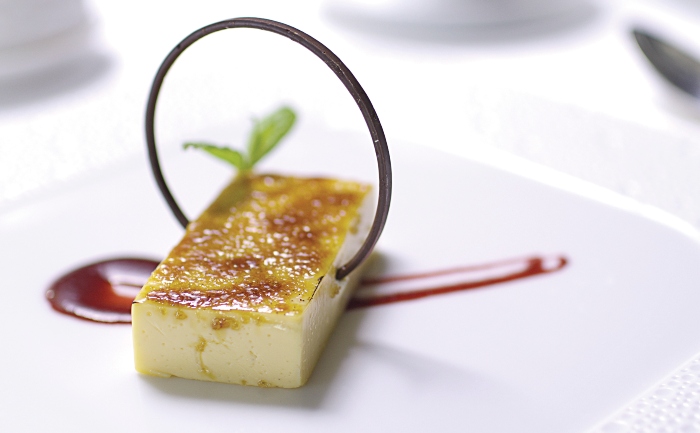 7. Experience immersive itineraries
The smaller ships that luxury cruise lines use are not only great for offering a more personalised, and no-expenses-spared holiday, but they also have the added bonus of being able to sail into ports where bigger ships cannot. With destinations such as Komodo Island in Indonesia, and Portofino in Italy being so accessible on these smaller ships, the world can be right at your fingertips. You can expect an extra special experience in these harder to access destinations, as they are not overrun with tourists. Luxury cruise lines also tend to offer more overnight stays, giving you more time to see a destination and enjoy both day and night-time activities and culture.
Some luxury cruise lines, such as Virgin Voyages, even own exclusive island destinations, giving guests the experience of tourist-free island living. There is no shortage of opportunities to relax, whether you're on the beach, at the bar, or lounging in a private cabana and with fantastic pool parties held after dark, private islands are the peak of luxury holidaying. Find your perfect luxury cruise destination.
8. Take part in shore excursions and exclusive events
Luxury cruise lines understand that the destination is just as important as the ship when it comes to your holiday, and focus on giving you the chance to fully explore a destination. Excursions are included more often than not, and some lines even go that bit further. For example, Azamara Cruises pride themselves on Destination Immersion® offering unique itineraries, a fantastic all-inclusive programme, and one Amazing Evening per cruise. Created exclusively for Azamara guests, this complimentary evening excursion is designed to introduce you to the very best of local culture, dance, food, and everyday life in a private setting. From a sunset dinner on the Amalfi coast, to Polo in St. Tropez, these shore excursions allow Azamara guests to delve even deeper into the unique places they visit.
9. Intimately-sized ships mean less crowds
Thanks to smaller ship sizes you will experience a much more intimate cruise holiday. Staff will get to know you on a personal level and remember your favourite drinks exactly how you like them, while you form friendships that last a lifetime with other like-minded passengers.
10. Relax in peace and quiet
If your idea of a holiday is laying back in the sunshine and having your needs met, then it is worth upgrading to a luxury cruise line. With fewer children and less entertainment announcements, you can sit back and relax in the peace and quiet, and use your time as you wish.
A luxury cruise isn't just about the amount you're spending - it's about the experience you'll receive that you won't find anywhere else. When you're onboard a luxury cruise ship, staff ensure that every small detail is taken care of, ensuring smooth sailing from the moment you leave home to the moment you arrive back on land. If you're looking for a truly remarkable getaway for a special occasion, then a luxury cruise is well worth considering.